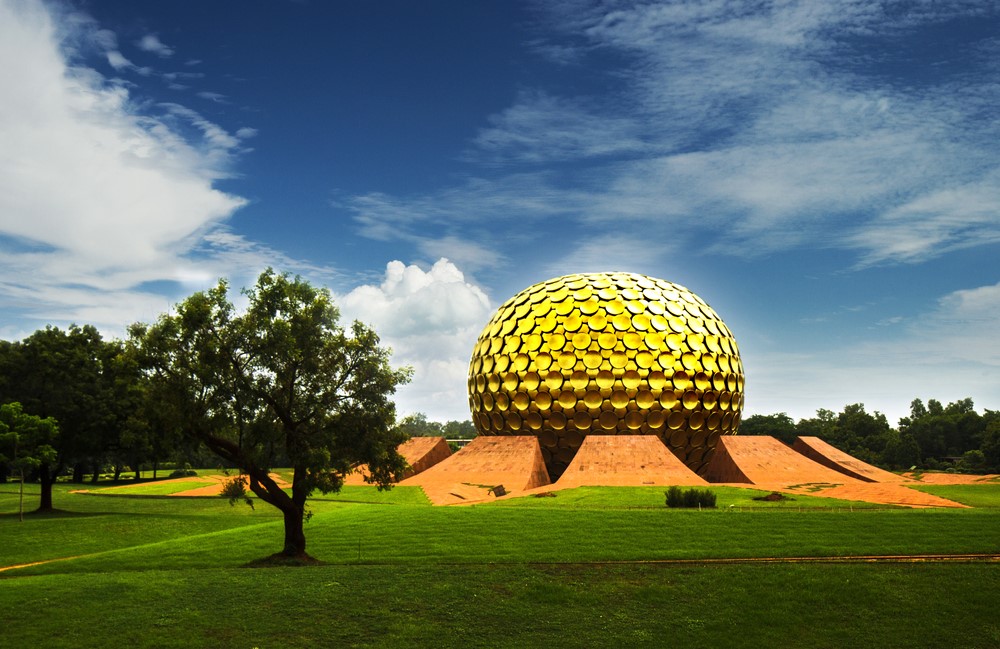 Well, it's a space among the forests, beaches, and the semi-urban zone that's made up by man into a completely transformed. It's a fascinating experiment that covers an area of over 2o sq kms of few scattered establishments along with comfortable Pondicherry resorts. However, for a first timer, it may be difficult to find exactly where Auroville, so you can start with the Visitor's Center and spend some quality time there. Here's why you must keep at least a day aside for Auroville the next time you visit Pondicherry.
Visit the Matrimandir
A lot has been talked about already and so, this is perhaps the first place you must visit at Auroville. It's a totally different experience where your mind is free while your body and mouth are automatically silent. It's a wonderful experience among the pin drop silence and complete freedom all at one place. So, book a comfy place to stay at the Pondicherry resorts nearby and walk up to serenity whenever you feel the need.
Catch up a performance at Adishakti
You can experience the amazing theatre experience here with excellent performances and live music and ingenious acting. This is perfect for art lovers, and you are bound to enjoy the same.
Visit the Youth Center for a party
This party at the Youth Center requires an invitation and that does not come across unless your friends with some cool people at Auroville. That's makes it clear that making random friends, in this case, would not help. So, make the right friends and get invited to this wonderful party with a lovely setting and a cool vibe.
Take a trip to the libraries
If you love books and have some time in hand, you can visit one of the libraries at Auroville. It offers the perfect ambience for reading among silence.
Take a ride on a bike at night
Chill out at night while exploring Auroville on a bike with a friend. You can take a ride to the Solar Kitchen, find a bench and chat with your pals. Make sure you carry a jacket as it is quite cold in the night.
Enjoy good food at Naturellement
If you are looking for an amalgamation of good food and a great ambience, this is just the right place for you. Located at the centre of Auroville this is a place to savour delicious food. Just make sure that you carry cash as they do not accept card payments.
Try the Cold Coffee at Marc's Coffee
If you are a beverage person, you can quickly try the cold coffee at Marc's which is purely sin. It's located on the way to Matrimandir crossing the bakery.
Explore Auroville
If you have some time in hand, simply go exploring Auroville. There is a lot more to see that said, or you can simply find a modest place, sit there and relax. You can either prefer to keep calm and watch the surroundings or listen to music in peace.
Have a meal at Tanto's
It's one of the most popular bistros at Auroville, and you can get some great pizzas here. The ambience is relaxed where you can chill out with friends while sipping on ice tea.
Check out the guest service
Visit the guest service placed above the Solar Kitchen in your free time and find out what more you can do at Auroville. You can get to know a lot more about Auroville, and there's a lot more than you can do.
Now that you have a basic itinerary of the places you must visit in Auroville and the activities that you must explore, book your journey to Pondicherry online and find a beautiful place to stay among the Pondicherry resorts and get going!
Category: Travel