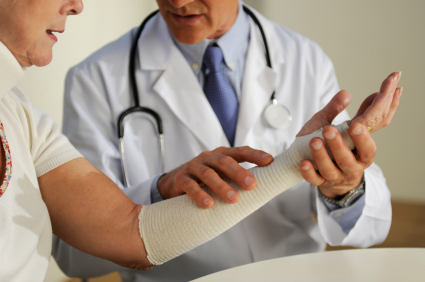 If you've had an accident at work, it can be a really stressful time. With everyone telling you what the best things to do are, it's hard to know where to start. Here's a quick guide to the process if you're considering making a compensation claim.
Nobody wants to suffer an accident at work, but it could happen to anyone, whatever industry you work in. Figures from the Health and Safety Executive (HSE) show that in 2011/12 there were 27 million working days lost because of illnesses and injuries caused through work. If you've recently suffered an injury or are considering a compensation claim, what processes should you follow?
Report the accident
You must make sure that the accident is recorded in the company's accident book. This will provide you with crucial evidence if you start the accident at work claim process. If your company doesn't have an accident book, then write the details down and keep a copy for yourself.
Seek medical advice
Even if you think that your injury is only minor, you need to see a medical professional. They'll be able to examine you and keep a record of your injury. These notes can be used as evidence for an accident at work claim.
Have you got a claim?
Once you've taken time to assess the situation, you may want to make a claim for compensation against your employer. Any legal action must be started within three years of the date of the accident. Before you seek legal advice, you need to consider whether you have the chance of bringing a successful claim against them.
For a case to be successful, there has to be evidence that the illness or injury was caused because your employer was negligent. They have a legal obligation to protect your health, safety and welfare while you're at work. If an accident happens because they didn't do this, then they could be deemed to be negligent. It's important that you gather as much evidence as possible to help your case. This could include:
–       A copy of the accident report
–       Details of the accident, including date, what happened, witnesses
–       Doctor's report
–       Training certificates
–       Employer's health and safety policies
–       Photos of the location of the accident and your injuries
–       A drawing of the layout of relevant equipment
If you carry this out early on, there's more chance you'll remember all the small details, which could make a difference further down the line.
Choosing a solicitor
When you've decided to make a claim, you need to choose a solicitor. It's best to go for one who specialises in personal injury claims, as they'll have the expertise and knowledge of the industry. They'll be able to take you through the process and determine if you've got a chance of winning.
Accidents at work can range from a minor twisted ankle to more serious amputations, but they could all be suitable for compensation. If you think that you have a claim, then speak with a specialised solicitor.
AUTHOR BIO
Susan Knight writes regularly on health and safety and workplace accidents for a range of legal websites and blogs. She regularly reviews the market to keep up to date with new developments and updates from specialist solicitors, including www.evolutionlegal.co.uk.
Category: Law