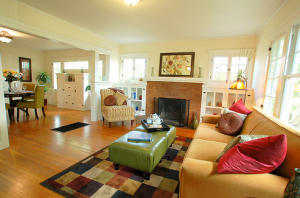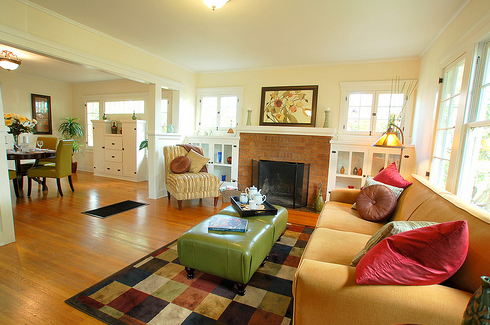 Every homeowner aspires to live in a pleasant looking and comfortable home. Being delightful does not really imply acquiring expensive, eye-catching home decor. It simply means organized and well-decorated. Among all the other rooms inside the house, living room is the most noticeable place. That is why many homeowners carry out a makeover project to turn an ordinary living room into a more welcoming area in the house. Budget is usually a prime obstacle when it comes to pursuing a makeover plan. But as they say "if there is a will, there is a way."
Fortunately, there are clever means to enhance the appearance of the room without the need to shell out huge amount of money. These ways might sound very simple; but they are effective in making a big difference in the overall look of the room, if properly executed.
Observe Good Spacing – Avoid stuffing so many furnishings and items in the living room. This place should look relaxing and spacious even if it is just small. Maintain a good traffic within the area so you can easily move around. Place the furniture pieces in spots where they cannot hinder the ways or can cause tripping. Rearrange the furniture in such a way that it should allow the homeowners or visitors to move around freely without the risk of stumbling on anything.
Add Living Plants – Living organisms can add life to a boring room. Thus, it is highly advisable to add indoor plants in the living area. There are so many kinds of plants that can perfect fit in the living room. Be sure to pick the right type and consider the height of the area. If room has restricted space, opt for small potted shrubs. A big living room can house a tall kind of indoor plant. Another option you may consider is putting flowers on unique vases. They will not only bring life to the room but can give fresh aura as well.
Use Right Paint Color – Any living room decor will not do any justice if the wall and ceiling paint is worn out or corroded. Repaint the living room with peaceful color. A bucket of paint will not really cost that much, thus it would never hurt your budget. Neutral color is a good option as you can accent it with other colors. Otherwise, you may mix and match two colors. Never use dark shades as they can make the room look gloomy.
Accessorize – Adding some decorations in the living room can bring in lively ambiance. However, it does not mean you can place any decor you want. Not too much, not too little.
○      Wall decor – Hang an eye-catching framed artwork on the wall. Paintings are perfect addition to the wall. But you do not have to buy those masterpieces of world renown artists. Any kind of framed art pieces or painting would do.
○      Rugs – Rugs are no longer used for cleaning off dirt on the shoes. These pieces are now employed as additional decorations specifically in the living room. Most rugs today are finely created with impressive embellishments and designs. Place a rug near the fireplace or beneath your favorite chair to protect the floor. Check out online stores as you can find affordable rugs made from different materials.
○      Centerpieces – Add a unique centerpiece on the table such as a bouquet of flowers. If you are not really fond of replacing fresh flowers every other day, you may decor your table with scented candles. Any table will surely look elegant with candles sitting atop it. There many centerpieces you can think of that are not expensive.
The living room is one of the most visited parts of the house. Thus, it is just right to give it a fresh look. This is very practical for those who are living in condominiums, pads and apartments like those apartments in Atlanta. If you have limited space, you do not need to embellish it with a bunch of decorations. Making your living room is quite easy and budget-friendly when you know what to do.
Category: Home Renovation