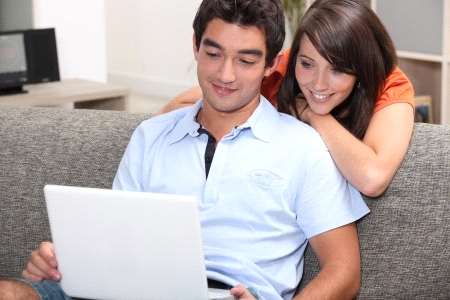 Rising cable costs are leading more people to end their cable subscriptions in favor of cheaper streaming services. Video-streaming services allow subscribers to choose from thousands of films and TV shows, which they can watch online using a computer, a mobile device or a television connected to a networked device like an iPad, iPhone, smart DVD player or gaming console. Some are even installing HDTV antennas to take advantage of free TV signals broadcast over the air.
Here's how you can use the Internet – and the airwaves – to enjoy your favorite programming, including local broadcasts, for cheap or for free.
Choose a Networked Device
Once you've cut the cable cord, you're going to need a networked device to stream your films and TV shows on. You can watch TV online right on your computer or mobile device – a small but growing percentage of American households do nothing but because they don't even own a television. Of course, it's easy to connect your television to a networked device to stream your favorite shows.
There are a number of different networked devices you can use to stream videos on your TV. Game consoles now connect to the Internet and support video streaming. Apple TV is a popular option, as is Google's Chromecast. Smart Blu-ray players will allow you to stream videos, and smart TVs eliminate the need for extra equipment. You could also choose a streaming video box, like the Roku, to send online videos to your TV, or you could hook up a laptop to your TV using an HDMI cable.
Watch Streaming Videos on Your TV
With online video streaming, you can watch any TV show or film you like without paying hefty cable bill. Some of today's best video content is available only on the Internet, anyway. Your networked device lets you watch this content right on your TV screen.
The difference between watching your favorite programs on cable and watching them via online streaming is that, with online streaming, you have the power to choose only those programs you want to see. You also have the power to watch them whenever you want, although new episodes are often available online only after their original television broadcast.
What About My Local Programming?
One of the primary concerns people have about eliminating cable is maintaining access to their local programming and local sports broadcasts. You can gain access to local programming and sports over the airwaves with an HDTV antenna.
HDTV antennas allow many people to pick up high-definition TV broadcast signals from the major television networks: Fox, NBC, CBS, ABC, PBS and your local channels. Plug your street address into the website AntennaWeb.org to find out what channels you can expect to clearly receive over the air at your house.
If you have a newer HDTV, you won't need a digital converter to make your HDTV antenna work. These antennas start at around $20 for a simple indoor antenna.
What About Sports?
If you're a sports fan, you can still watch your favorite teams play without paying for cable. Services like MLB.TV, NBA Game Time and NHL GameCenter LIVE will let you stream your favorite teams' games live via devices like the Roku. These services are pricier than television streaming and video-on-demand services, but they're still cheaper than paying monthly cable fees.
Your hometown team's games may still be blacked out, however. If your town's team is big enough to get coverage on the major national networks, you can still watch the games using your HDTV antenna. Otherwise, you may be able to watch your hometown team's games on one of your town's local TV channels.
The proliferation of video-streaming and video-on-demand services has left many people ready to abandon cable TV altogether. These savvy entertainment consumers know that the right mix of video-streaming and video-on-demand services, combined with over-the-air TV broadcasts, can give them access to any program they want to watch.
About the Author: Contributing blogger Allen Moreaux got rid of his cable two years ago and hasn't looked back since.
Category: Saving Money