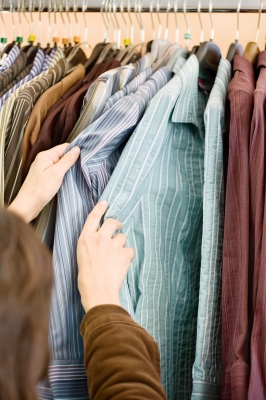 When you open your closet doors, are you confronted with a chaotic mess that makes it impossible to easily locate whatever you are looking for? Did you know that you can actually store more in an organized space than in a cluttered space? By following these five budget-friendly tips, you can organize your closet and eliminate clutter.
Clear Before Organizing
Begin your organizational project one closet at a time. Remove all of the items, sorting them out according to what you plan to return to the closet, what you plan to donate or throw away and what goes in a more appropriate place. If closet space is limited at your house, you may want to consider extra space storage in Oakland. Seasonal items and seldom used items can be taken to a storage unit in order to free up space in your closets.
Assess Your Belongings
Once you have decided on what to return to each closet, assess what you have and devise an organizational plan. You don't have to invest in an expensive closet organizer. Look around some thrift stores and yard sales to find shelves that you can add to your closets. Also look for some baskets or boxes that you can use to organize small items.
Door Organizers
You can easily find reasonably priced organizers that you can place over the closet door. Choose the types that accommodate your need. An over-the-door shoe organizer is an ideal way to keep the floor of the closet from become a cluttered assortment of shoes.
Hang It Up
Hooks of all sizes can help you maintain order in your closet. Purses, belts, exercise and sports equipment and numerous other items can be hung on hooks in the closet. This makes it easy to find, remove and return the items. There are over-the-door hooks available in a variety of sizes and designs. Take advantage of the convenience they offer. A wire shelf can serve as a dual purpose organizer. Some things can be placed on the shelf and other items can be hung on the wire bottom.
Storage Furniture
A bookcase or small chest can be placed inside of a large closet and used as storage and organizational space. You can find bargain priced furniture at yard sales and thrift stores that you can use as part of your organizational projects. A storage bench can be an added organizational luxury in a large closet.
Category: Housing