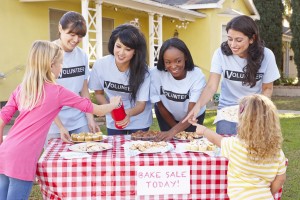 When it comes time for a fundraising drive, many nonprofits find themselves doing the same kind of events year after year — dinner functions, concerts and other traditional mingle-and-donate events. Of course, it's good for your main donors to have a few events they will annually mark on their calendars, but to bring in new donors and get more awareness in the community, you may find it's time to plan a fundraising event that's a little more unusual.
Tap Into the Community Spirit
So, what are some examples of less traditional fundraising events and why may they work for you? Well, the best unusual fundraisers tap into the spirit of their respective community. How is best to do that will depend on the fundraiser. If your community has a large selection of restaurants or if you have a culinary tradition, then perhaps a food or drink festival would work to both bring local businesses some media exposure and your cause a portion of the proceeds.
Another unusual fundraiser involving local businesses — partnerships in the community are important — is a scavenger hunt. Have teams search a neighborhood or the whole town for clues. The winning team can either become your nonprofit's ambassadors for the next year or donate a set amount of money from each participating team member. Local businesses would provide resting places for the clues, thus bringing them press. You could also have teams seek sponsorship before the event, with money going to charity.
Banding together with other area nonprofits or causes for social good to create a "Giving Day" in your community can also be a great way to pool resources and get recognition from a wider segment of your population. Though some experts caution against co-promotions because of the potential of mixing messages, if you take inspiration from the Giving Tuesday organizers, you'll see it's possible to send out a concerted message that funding is needed without your personal missions becoming lost in the shuffle. Consult with local nonprofits or with a local group that has experienced good luck organizing large fundraising events to see the types of events that would suit all of you the best.
Embark on a Challenge
Challenge-related fundraising ideas can be a lot of fun for you and your donors. This past year, the "Movember" challenge was extremely popular in the media. Though it's not as closely tied with one cause, asking men to skip shaving for the month of November and donate a certain amount of money to prostate cancer research for each day they let their beards or mustaches grow, turned out to be a phenomenal idea. Other enjoyable challenges may include sponsorship for taking a dare such as dyeing their hair an unusual color, shaving their heads, or performing a difficult task in public. Marathon-like challenges can also be fun, such as a walking challenge, a healthy eating challenge or a swimming challenge. Get participants to put out the word for your cause, and to let everyone in their networks know your organization could use more press, more volunteers and more money.
Go High-Tech
If you're hoping to capture the interest of younger community members, consider expanding your marketing budget to include the development of an online game or app that could bring you awareness or donations. Some games, such as the Half the Sky game on Facebook, end up becoming viral and influence potential donors for a longer time than you may expect. Other ideas involving technology and social media include an online quiz challenge or an online scavenger hunt.
Twist The Traditional
If you're worried about your board's or community's response to an unusual fundraising event, you can take smaller steps for your first event by organizing a mostly traditional event — with a less usual twist. For example, instead of having a seasonal awards dinner, consider making a "host a mystery" party. At the dinner, hold a "reverse raffle" where diners win unpleasant or silly prizes unless they offer to donate more money to get out of the prize.
There's no limit to the kinds of unusual events you can hold to benefit your nonprofit or cause. The key point to organizing one, however, is correctly positioning the event in the eyes of your donors and larger community.
Category: Business