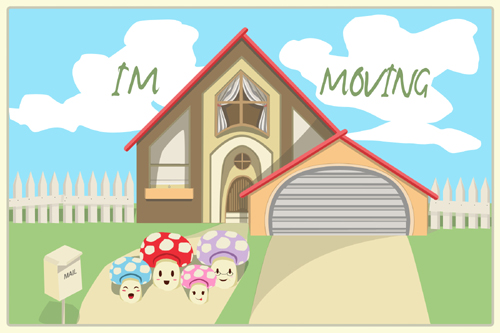 Moving to your first apartment should be a fun and exciting time, not a stressful one.  However, the moving process can get stressful if you are not prepared in advance.  In order to make your move as smooth as possible, you should create and follow a simple checklist to help you along.  This article will give an example of a simple checklist for moving to your first apartment in order to help you have a stress free transition.
Decide how you will move
The first step in moving to your first apartment is to create a moving budget. Your moving budget will help you spend the right amount of money on services and boxes, etc.  This will help you determine how you will be moving.  Will you be using a moving company, moving by yourself, or enlisting the help of friends and family?  If you are going to use a moving company, be sure to research several companies in order to get the best price and service available.  If you are enlisting the help of family and friends, be sure to ask them in advance and notify of the day and time you plan to move.  You should also finalize the details of your move in day with the apartment complex so you are aware of what time and day you can move in.  After all this is completed, begin gathering supplies like boxes and tape.
Begin the packing process
The next step in the moving process is to begin the packing process.  You should begin packing your belongings a few weeks prior to your move.  Start by packing your least used items first and then work your way down the closer to your moving date.  Keep your belongings organized by arranging them in boxes by category or room they belong in, and then label the boxes accordingly.  Throughout the packing process, donate any items you do not use often to charity in an attempt to remove clutter.  You can also begin using items such as detergent and food so that you do not have to bother moving these items.
Alert important contacts
The next step in the moving process is to contact all of your important contacts to alert them of your address change.  Start with the U.S. postal service and then contact all of your credit card companies, banks, magazine subscriptions, etc.  If you are moving to another state, be sure to research the fees and timelines for changing your driver's license, vehicle registrations, etc.
Last minute checklist
The last and final steps are to take care of the last minute details.  If you are using a moving company, contact them to confirm the date and time of the move and if you are using friends and family, contact them to remind them and confirm their help as well.  You should also contact the apartment company to arrange a time to pick up your key and take a final look before you move in to the new apartment.  Finally, make a priority box for yourself that includes items you use daily and a couple of changes of clothes since your belongings will be packed away for a few days.
Make a priority box, remind friends who are helping, confirm with moving company, confirm with apartment, get key, etc.
About the Author
Ashley is a freelance writer and blogger. She writes on a wide number of different topics. This includes tech, finance, travel and home related topics.  For a great apartment mover in Austin, she suggests using Einstein Moving Company.
Category: Apartment Rental