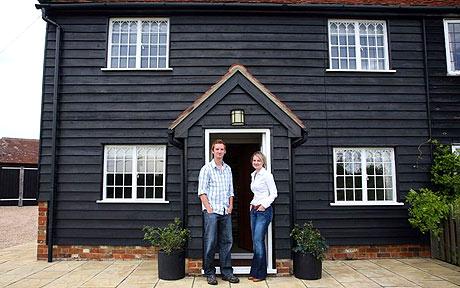 Anyone who wants to give their house an instant makeover should consider revamping the exterior. Not only can things start to look tired pretty quickly when they aren't maintained, but if you are trying to sell then you want people to see it at its best.
Let's go outside
Anyone who has embarked on the long and sometimes frustrating business of house hunting will know that you have to make decisions based on the information you have to hand. When you spend a lot of time looking at adverts and choosing which you want to view, your eye will be drawn to those with images which appeal to you in order to avoid wasting your time viewing houses which just don't feel right. Whilst a buyer may be missing out on a house which looks lovely inside but needs some exterior work, the vendors could be losing out on opportunities to sell just because they haven't put the work in to make their house as appealing as possible.
Give a little love
Unsurprisingly, many people don't notice the exterior of their house as much as the interior, but when you are trying to sell your house it will be the first thing a potential buyer sees and could be the point at which they make their first decision. As with many things, first impressions count, so you want to make sure any buyer's is a good one. Painting the exterior walls and window-frames shouldn't take too long or cost too much money and can make a world of difference to how your house looks from the outside. If your garage door is a little old and in need of some care and attention then it might be worth considering replacing it all together. Steel up and over garage doors can be a great investment as they not only look good but also provide an extra level of security which will appeal to any interested buyers.
Think twice
If you are thinking of giving the exterior of your home a makeover then make sure you get good advice on how best to maximise your budget. You may consider the cheapest options for everything, after all you're planning on selling it not living with it, but cutting corners could be a false economy and any potential buyers might be more discerning than you think. Investments like steel up and over garage doors could even add value to your house if they are installed properly and improve the look and security of your house and garage. Replacing a garage door can not only make it more secure in terms of preventing people from getting in, but can also improve the quality of the interior. Whether you keep your car in your garage, use it for extra storage or use it as an office space or other purpose, having a proper door can turn a draughty space into a room which has a lot more potential.
AUTHOR BIO: Diyana Wilson has helped hundreds of people to improve the look and feel of their houses in order to sell and offers advice on how to make their property look great. She often recommends strong steel up and over garage doors to people who want to make their property more appealing to buyers.  
Category: Real Estate