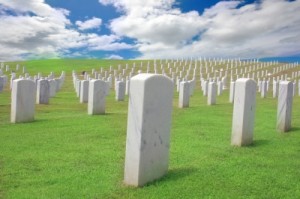 Many people do not want to think about planning their own funeral but planning for the expenses of your funeral will help your family tremendously. Depending on your age and health, there are many ways to begin saving for your funeral. Whether you are looking to save for a large funeral or a small gathering of family will determine how much you need to save to cover the expenses. The first step to saving for your funeral costs is to determine how much the funeral you want will cost.
Savings Account
The easiest way to begin saving for funeral costs is to open a savings account. These accounts can be opened with a minimal amount to start with. If you choose to open the account with a larger deposit, you can choose an interest bearing account at most banks. The interest rate may not be very high but you will still be earning money on your investment. You can also look into options with your checking account that will allow you to round your purchases up to the next dollar and put the difference into your saving account. Depending on how much you choose to put into the savings account each month, it may not take you long to have the money needed to cover your funeral.
Insurance
Purchasing life insurance to help with final expenses is the most common way to save for funeral costs. You can choose to pay your premium monthly or yearly and the insurance company will then pay your beneficiaries upon your death. This money can be used for funeral arrangements as well as expenses and debts you leave behind. Depending on your age, you can choose a term life policy or a whole life policy. The premium for term life is lower but you are only covered for the amount of time you select at the time of purchase. Most term life policies hold a cash value and can be cashed out at any time you choose. If you choose to take the cash value of your policy, you should place that money into a savings account specifically for funeral costs.
Prepaying
Many funeral homes will allow you to prepay for your services. This can be done all at once or over the course of time. By prepaying for services, you can take the guesswork out of the arrangements for your family. You can select your own casket, plot and the type of service you would like. In addition to making the arrangements easier on your loved ones, you are able to lock in the price at today's rate and avoid the increase that can occur over time. Prepaying for your funeral services is a great idea for those who do not want or need life insurance, such as those who do not have a family depending on them. This way of saving for your funeral also reduces the risk of you withdrawing the funds to be used on other expenses that may come up.
Category: Family Finances, Financial Planning