This article talks about ways to update your kitchen without a lot of effort. It discusses ways to give your kitchen a new look without ripping the whole thing out and starting from scratch, with easy and cheap methods to do this.
If your kitchen is beginning to look a bit old and tired, but you cannot afford to replace it all, or cannot face the mess and effort involved with a whole new kitchen there are things that you can do to update the look without starting from scratch. A simple rearrangement, or a lick of paint can make all the difference and you'll have a kitchen that looks brand new for a fraction of the cost and upheaval.
1. Replace some parts
You can make it look like you have a whole new kitchen without replacing the whole thing, just update key parts to give the impression of a new design with a fraction of the effort. Solid wood worktops are a good place to start; laminated worktops can quickly look dated and get easily damaged, so by replacing an old laminate worktop with a solid wood version you will give your kitchen and instant boost. Cupboard doors are another easy change for good effect; swap old for new and as long as your cupboard frames are still fine then you will have an easy job and effectively a new kitchen. Look out for deals on end of line sets of doors and consider some glass ones to display glassware and give your cupboards a fresh look.
2. Grab a brush and get busy
If you have a specific colour in mind for your kitchen, then the best method may be to paint your cupboard doors in the style that you are looking for. This way you will have exactly the colour that you want and a unique look as well. If you are planning to paint your cupboard doors remove them first, as you will get a better finish if you do the job with them lying flat. Remove any existing varnish or colour for the best finish and get busy. This is a really cheap way to update your look and if you go for solid wood worktops as well you will have an expensive looking kitchen at a tiny price, that no one else will have.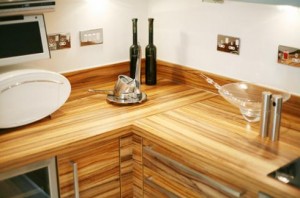 Updating your kitchen is an easy enough job to do on a budget, you just need to get a bit creative and put your artistic skills to work. Simply changing the worktop and the cupboard doors will change the entire look of the room; just make sure you use a kitchen friendly paint if you are painting your doors and invest in some pan stands to protect your new wooden worktop from getting scorched. You'll have a fantastic looking new kitchen with minimal effort.
AUTHOR BIO: Diyana Lobo is an interior designer who often has to create a new look for a kitchen on a tight budget. She loves to focus on the worktop and often visits sites such as worktop-express to get a good deal on a solid wood worktop, that she says creates an expensive look at a low cost.
Category: Home Renovation