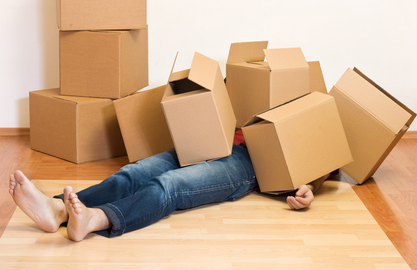 Moving to a new home requires hard work and planning. A concern for many families is the overall cost of the move. Expenses for supplies, renting equipment or hiring professionals can grow out of control very quickly. Fortunately, moving does not have to be an expensive experience. Several tips will help to make the moving process more economical.
Find Free Packing Materials
Anyone who is moving should avoid paying for boxes and packing materials. Many businesses like grocery stores will give away boxes for free. All it requires is asking and picking up the boxes at the right time. Collecting free newspapers will also lower costs. Newspapers make good packing for inside of boxes. Even free scrap cardboard can be converted into specialized packaging for fragile items. Good packing tape is really one of the only supplies that should be purchased.
Asks Friends for Help
A good way to save on moving costs is to ask friends for help. Friends can help to pack, move heavy furniture and even unload everything in the new house. A small group of friends will make it unnecessary to pay extra for movers just to get items out of a house and into a truck. Additionally, friends might have access to trucks or vans so that there is no reason to rent a moving truck. Many people are happy to help a family move for nothing more than pizza or snacks.
Minimize What Is Being Moved
The amount of items being moved will increase costs whether the family is renting a truck or hiring a professional moving company. Extra possessions and furniture take up space in the truck. This could mean renting a larger truck, making extra trips that use gas or paying more for a moving service. Families should look at every item while moving. Items that are broken, no longer needed or outdated should not be moved. According to experts at Beverly Hills real estate, although most homes on the real estate market have large amounts of storage space, selling or throwing away unnecessary personal possessions will lower moving costs before arriving.
Always Compare Moving Quotes
Some families need to use professional movers to get everything to a new home. Nearly all moving companies will provide a quote based on the volume of boxes and furniture being moved. Families will want to always get two to three quotes from professional movers before making a decision and signing a contract. Comparing quotes sometimes reveals movers with exceptionally high prices. Comparing quotes can save a large amount of money when moving.
Category: Relocation