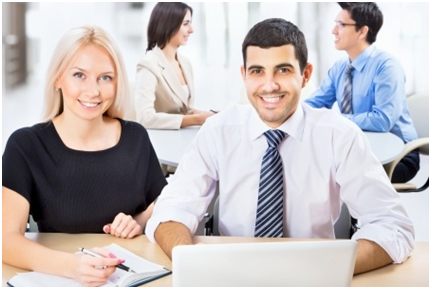 The more experienced and educated a professional, the more likely he is to bring creativity, ingenuity and know-how to your business. On the other hand, the more experienced and educated a professional, the more competition there is to hire him. Even if you finally find a candidate perfect for your company, you may lose him to another company before he starts — or not long after. If you can't afford to pay an in-demand candidate to work full time, turn to an HR outsourcing company staffed with experienced, educated and in-demand workers.
Readily Available Candidates
Does your company have a hiring fair coming up, a training seminar to familiarize everyone with new software or a change to health care benefits to discuss? Hire HR professionals to come in during your busiest times — when you need a trained team of experts to take care of your employees. HR professionals offer advice on everything from HR paperwork to familiarity with your employee handbook. They can even spend time at your business developing a handbook from scratch or updating an out-of-date handbook.
There's no need to examine resumes, make salary offers and risk losing a candidate in the end; the HR team is available with minimal advance notice for whatever issues come up. Remember: You are their client, not their employer. You can request the professional who works with you, too. Ask for a favorite professional you've had in the past or simply explain to the organization what kind of work you need, and they'll match it you with the professional most suited for the task.
As Much Help As You Need
Outsourcing means that a team of professionals — or even as one professional, if that's all you need — is on standby, ready to go when you need them and for as long you need them. You can rely on an entire team year-round for HR assistance, tasking them with handling everything an HR department normally would. Or, you could book an expert for a seminar and not call him again until the next time you have a special event. There's no need to commit to hiring a person with graduate-level experience when you outsource.
More Affordable
When experts help your business on an as-needed basis, you're flexible to work in your budget. If your budget for the month is tight, you'll know to delay the seminar or whatever else you need an HR professional for until the next month. Even with an HR organization at your disposal throughout the year, you're only taking up a fraction of the organization's time. What you pay an organization doesn't equal what you'd pay to someone working full time. Plus, an on-staff HR representative won't always have work to do, so you'll be paying him to do nothing at times.
Branching Out to Other Departments
HR isn't the only department you can outsource. Maybe you'd like an IT department, but the cost for IT experts with higher education is too much, especially since you don't have a constant need for them. You can choose to outsource to qualified IT experts instead. Consider other departments you'd like to have at your business but can't afford at the moment, like sales, marketing and customer service. It's likely that you can outsource or "rent" a team of employees at a fraction of the cost of creating the department in-house.
According to BusinessWeek, the low end of the average salary a professional with an MBA can expect is $113,000. If you're like most small-business owners, especially those just starting out, you don't have room in your budget to pay those kinds of salaries. However, that doesn't mean you have to bypass graduate-level expertise altogether. Outsourcing departments as needed is a way to have your cake and eat it, too. Rely on expertise at a price your small business can afford.
About the Author: Kathryn Twomey is a small-business owner. She credits outsourcing human resources for much of the savings in her budget in the past few years at her business.
Category: Business