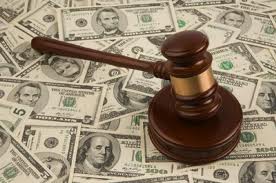 It's sad but many people have little dollar or pound signs flashing in their eyes when they hear the word 'compensation' mentioned, and on that note, it should be mentioned that it's a wise move to steer clear of law firms offering cash in advance for compensation claims.
Whilst it's natural that those who've suffered from medical negligence will want a recourse of action that enables them to get back on top of life again – that recourse of action is a compensation claim that provides them with a fiscal means of addressing the expenditure the incident has required of them – but putting money before everything else isn't the right way to go about things.
So how much will I get?
Due to the nature of medical negligence and compensation claims, the amount you receive – providing you're successful – can vary wildly because some medical complications are more serious and have greater consequences than others, and some claimants are simply better represented than others.
If you feel you have a legitimate claim, and the solicitor that you confer with feels the same, then what you should be concerned about more so than anything else isn't the amount of compensation you'll receive, but rather will you be able to establish a) that there was a duty owed to you by the medical professional you're filing a claim against, b) that their duty to you was breached, c) that the breach of duty in question caused you harm, and d) that the condition you're filing a compensation claim for arose from that harm.
Time limitations – How long before proceedings must commence?
Something else you should concern yourself with more so than the amount you'll receive is how much time you have before the claim proceedings must commence if you're to have a chance at successfully applying for medical negligence.
Here in the UK, there is a three year limitation on medical negligence compensation claims, so you essentially have three years after the incident has taken place to begin proceedings with a solicitor by your side – don't think for a second that you have any chance of doing this alone.
There are however, several exceptions to this rule, though that isn't to say that you should delay for any period of time if you feel that you have a claim to make. Firstly, children under the age of 18 are exempt from the period of limitations, so they have three years from the day they turn 18 to file a claim. Secondly, the period of limitations might not apply if you can prove that you didn't realise there was a claim until later – an example of this is discovering a medical instrument in one's abdomen after several years have passed – and thirdly, if the claimant is considered to be suffering from a lack of mental capacity, they may be able to file a claim after the three year limitation period has passed.
Covering the costs – What about representation?
This is something else to concentrate your attention on instead of thinking about how much compensation you stand to receive, for as you'll need to pay for the services of a solicitor and other expenses, including expert witnesses, the costs of filing a claim for medical negligence quickly add up.
Fortunately, you do have several options to look into further, and quickly too because you need to start proceedings before the three year limitation period is up. These include Mintons medical negligence claims – law firms like this are able to provide conditional fee arrangements, paying privately with services rendered charged at an hourly rate, and Legal Aid.
About the Author:
Mintons Solicitors are specialists in handling clinical negligence claims in the UK. Information about Mintons medical negligence claim services can be found on mintons.co.uk.
Category: Law