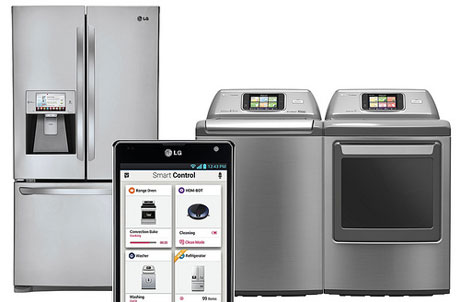 Investing in your home can mean some major rewards. Whether you are looking for things that are more enjoyable while you are living there, or you are hoping for some added resale value, home improvements can be worth every penny. Here are six surprising ways to boost your homes value.
Smart Appliances
Technology has changed the ways your home runs. From dishwashers that use just the right amount of water and soap, to laundry machines that can both wash and dry your clothes, the appliances in your home will add tons of value to the overall appeal of the house. And best yet, these appliances make your life much easier so you can enjoy doing other things than mundane chores around the house.
Gazebo
Adding to the outdoor living in your home can increase the overall space available to enjoy in your home. A deck is a great option, but if you don't have the ability to do that, a gazebo is a great substitute. Gazebos are often much easier to build and also take less maintenance. They also give you somewhere to sit on beautiful summer days, or chilly winter evenings. Make sure to check local laws before building any structures, however, or you might have some unexpected visitors.
Emphasize The Entrance
First impressions are everything. So once people make it into your doorway, blow them away with a grand entrance that is well decorated and demonstrative of the rest of your home. Add paints, décor, and more to really bring out that first area of your home. Consider an exquisite chandelier, artwork, or a decorative rug. You can even repaint your front door and add a quality knob and door knocker.
Electronics
Having your house wired for electronics will make your life much easier. This means everything from audio from your television, to controlled temperatures in each room, and even home security systems. Being set-up for cable and WiFi is nearly a must these days. You can also find home automation products through Vivint home security and other retailers in Enterprise AL. Companies like Vivint, for instance, can automate your home to turn down the heat automatically during specified times of day, like when you are at work, to save on energy costs.
More Lighting
By adding new lights throughout your home, or by taking on the extra project of adding more windows, you can add plenty of lighting to your house. Lighting makes your living spaces look larger and also brightens the mood of your home. Think beyond just the lights themselves, however. Light and lamp shades can also add huge amounts of character to your home.
Storage
If you have a garage, a basement, an attic, or simply just some extra space somewhere in your house, be sure to turn in into useful storage. This added storage will free up other areas in your home, which will make for a more appealing house throughout.
The additions listed here are quick and easy tips to get more value from your home. Whether you are looking to sell, or simply get more enjoyment on your own, these additions will be worth the effort you put into making them.
Category: Housing, Real Estate