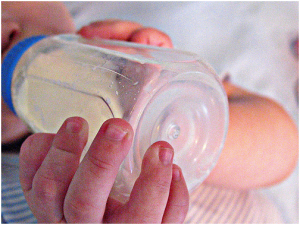 The breastfeeding debate has been raging for years, with positives and negatives being delivered by both sides of the argument. There are financial implications of buying formula, the possibility that breastfeeding may prove difficult for you or your baby or even the possibility that you may not have the time to pump or breastfeed due to work constraints. Though ultimately the choice is a personal one, there are some compelling factors to be aware of when making your decision.
Most recent research has shown that breastfeeding is one of the healthiest things you can do for your child. The American Academy of Pediatrics (AAP), the American Medical Association (AMA) and the World Health Organization (WHO) all recommend it for babies under the age of six months. Breastfeeding has been shown to defend against infections, beat allergies and many chronic conditions, and even produce smarter children. Additionally, for new moms who are trying to watch the pennies, breastfeeding is also financially more viable than buying formula.
Formula is easy, but can be expensive.
Though it may be easier, going down the bottle route can end up stretching the family budget quite tightly. According to some studies, formula can cost up to $120 per month, depending on where you live. Breastfeeding is not only natural, it's also free. Additionally, if you find that you are overproducing, you can sell your additional milk to a breast milk bank, making some much-needed extra cash for the new baby.
Breastfeeding encourages a strong motherly bond.
The bond between mother and child is a strong one, but it's only made stronger by breastfeeding. Try to make the time a personal time to connect with your child. Use a nursing pillow to make the both of you comfortable, and speak softly to your baby while they nurse. Be sure to switch breasts to encourage even flow and prevent sore nipples.
Formula is not the only answer for busy moms.
If you're heading back to work shortly after giving birth and are concerned about maintaining a breastfeeding schedule, there are ways to still provide your child with your own milk. Use a breast pump to express milk to be used later on by your partner or sitter via a bottle. Be sure to label milk with dates so you know what to use first, and always keep your breast pump and bottles sterilized.
Breast milk is still possible, even if it's not from you.
Breast milk banks are becoming a very real alternative for mothers who are unable to breastfeed for personal, lifestyle or medical reasons. Though it may seem strange to feed your baby another mother's milk, the practice has been going on for centuries with the use of wet nurses. Milk can be shipped overnight and you can select the mother it comes from as well.
Though it's easy to see the pro-formula arguments, ultimately breast milk is the healthiest choice for a baby. It has the perfect balance of nutrients and nourishment for a growing child. Even if you feel that you can't breastfeed personally, there are still alternatives you can investigate. Ultimately, the choice is yours
Domonique Powell is pro breastfeeding. She experienced less discomfort during feedings with pillows like the ones found at http://www.target.com/c/feeding-pillows-breastfeeding/mombo-by-comfort-harmony/-/N-5xtknZ55kvx which gave her the idea for this article.
photo credit: http://www.flickr.com/photos/21524179@N08/3668580431/
Category: Family Finances, Shopping