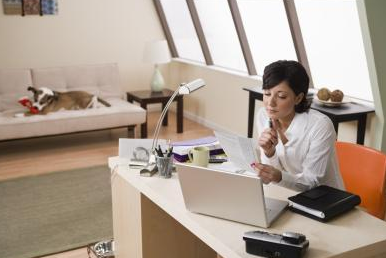 The typical adult spends a considerable amount of his or her day at work. For this reason, developing a comfortable office environment represents a crucial objective. Five tips are important to consider when working to craft and create a comfortable office environment.
Select a Proper Desk
A primary consideration in creating a comfortable office is the selection of an appropriate desk. Ergonomic considerations need to be borne in mind, which means that a desk should be designed for ease of use and access. This includes making certain that a selected desk is appropriately suited to a user's height. For some people this may mean a standing desk. Standing desks have been proven to be good for your back and in many cases boost productivity. While it may not be a good fit for everyone make sure the special needs of each of your employees is met.
Illumination is Fundamental
Office comfort necessitates that the workspace properly be illuminated. This necessitates a consideration of lighting sufficient to permit a person the ability to work easily without causing undue eyestrain and similar problems. Moreover, the type of lighting selecting needs to be softer to ensure that the work environment is not unduly harsh.
Obtain a Suitable Chair
The chair selected for an office is extremely important. Like a desk, the chair selected for an office must be ergonomically appropriate. There are merchants like Sit4Life that specialize in marketing comfortable chairs such as the True Back Aeron Chair, and other furniture items, perfectly suited to an office environment. A person is wise to purchase a chair from a retailer that permits a trial period (typically about 30 days) during which it can be returned for a full refund if it does not provide the comfort desired.
Consider Appropriate Ventilation
A comfortable office is an appropriately ventilated office workspace. Fresh air is crucial not only to maintaining a comfortable environment but also a healthy one. Research has suggested that in some places the air inside a building, including an office environment, is more polluted than that out of doors. The needs to monitor and maintain appropriate ventilation to aid in enhancing office comfort is a task that must be undertaken during all seasons of the year, including times when opening windows and accessing fresh air directly from the outside may be impossible.
Decorate to Suit Your Style
Offices sometimes end up being sterile environments. A sterile environment typically is not considered a pleasant let alone a comfortable workspace. For this reason, as part of establishing a comfortable office, take the time to decorate the space to reflect your own tastes (as is permitted by the rules of the company or business). This process can include adding such things to a workspace or office like photos, paintings and other personal (and yet business appropriate) touches.  To make sure your decorations don't encroach on another's conformability make sure the items you have are small and are not distracting to you or your coworkers.
Category: Business