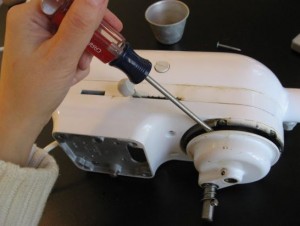 When household items break, it might seem like the fastest and easiest thing to just buy a new one. However, there are many items in your home that are quite simple to repair. Repairing damaged items rather than replacing them with new ones can save you a lot of money.
iPad
Although iPads are a relatively new item, many people rely on them to read newspapers and books, view videos, surf the Internet and to store and view their favorite photos. Perhaps because they haven't been around that long, people tend to replace them when they break when they could have them repaired for a fraction of the cost. If you are worried about reliability, think about all those refurbished iPads that are offered for sale after being repaired. They cost less than a new one. However, fixing the one you own costs even less.
Electric Razor
Razors are another item that are used frequently. Men who shave use their electric razor every day to keep their faces smooth and stubble free, while women might use theirs a few times a week on their legs and underarms. If this item breaks, repairing it costs a fraction of the price of buying a new one. Sometimes people replace their trimmers just because the blade gets dull. If the razor is still in good shape, buying a new blade is a cheap and simple fix. Moreover, you have the satisfaction of not adding it to a landfill.
Stand Mixer
Fixing a broken mixer can save a lot of money. Think about the mixer on the counter that you reach for countless times during the week to help make meal preparation faster and easier. New mixers are very expensive. However, parts for repairing KitchenAid products are readily available and fairly inexpensive, particularly when comparing the cost of fixing a broken part to buying an entire new mixer. If you are having trouble finding replacement parts in the local shops, you can always look online at sites like MendingShed.com.
Vacuum Cleaner
Vacuum cleaners typically last for years or decades. Maybe that's why so many people are tempted to buy a new one when their machine breaks. If you like your vacuum, you can save a lot of money by fixing it when it breaks instead of replacing it. Many older models of vacuums are very reliable and finding a similar replacement can be difficult because models have changed so much over the years. There are many vacuum repair shops that can fix your older model (as long as the parts are still available) for a fraction of the cost of replacing it.
Clothing
Some people throw away a favorite item of clothing if a zipper breaks or it gets a slight tear. It's much cheaper to mend clothing. If you don't sew, your dry cleaner is often equipped to replace zippers or patch tears at a fraction of the cost of buying a new item. Of course you never want to wear torn up clothing, but fixing a split seam or broken zipper is a fix that will make the item as good as new with no visible mending.
Things break down around the house all the time. Many people go outside their budgets to replace broken items. This can be detrimental to your monthly budget and is not generally necessary. Most items around your home can be repaired or mended for a very small cost and you can extend the use of the item for years and years.
Category: Home Renovation