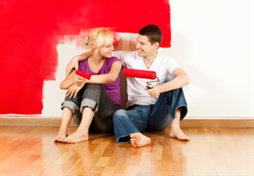 Nowadays, people are much more conscious of how their home looks to others. Some houses undergo renovations, whether major or minor, it depends on the trend for that year. Many home owners improve their homes after 5-10 years, depending on their budget. Whether home improvements are done every year or every 10 years, every upgrade should increase your home's overall value.
The following are excellent and cost effective home improvement tips that will increase the value of your home.
Keep your house appealing on the outside. According to Bankrate.com, a good first impression can add 10% to your home's value. First impressions are everlasting. With that being stated, if you don't want anyone seeing the inside your house, keep the exterior, including the backyard and driveway, presentable and attractive at all times.
Don't forget the paint. Painting is probably the simplest and most cost-effective home improvement. It makes every area in the house clean and presentable, especially when the used paint colors are neutral.
When it's broken, fix it. Improper maintenance is one of the main reasons why the value of a home depreciates. Most likely, there will be a time when your roof is affected by the following: needs sealant, infested by termites, the electrical system is outdated, or a water leak. Keep in mind that your home also needs some TLC. It's important to inspect all areas of your home constantly and fix whatever is needed to be fixed.
Add a family room. Instead of hanging out in the living area, having a family room not only gives you an additional space but also a new spot for the family to relax and bond. Also, potential buyers are after open floor plans which can add value to your home.
Transform your basement. If you have a basement, why not remodel and convert it into something more useful? Other than making it your storage area, which doesn't have to occupy the whole space, transform it into a recreation room. Install a gas fireplace, put up a bar, paint the walls using bright colors or add some colorful pillows to jazz up the area. Also, don't forget the bathroom since it can also increase the value of your home.
Remodel the bathroom. As one of the most profitable home improvements, updating your bathroom can dramatically increase the value of your home. Updating or adding bathrooms, especially master baths, are valuable to potential buyers. Aside from the shower and sinks, you may also install additional amenities such as a heated shower, tubs or storage cabinet. As for your tiles, you may want to keep them simple and basic.
Update your kitchen. According to U.S. Bank, renovation of kitchens is also a very profitable home improvement a home owner can make. The kitchen is the heart of the house which appeals to both, the homeowner and the buyer. Provide more cabinet and counter space, install a granite countertop and if you have space, put up an island counter.
The most important thing to consider when improving your home is the budget. While many loans may be available, only borrow the amount you'll need for you home improvement project.
For more home improvement tips, contact Local Improvement Pros by clicking here.
Category: Home Renovation