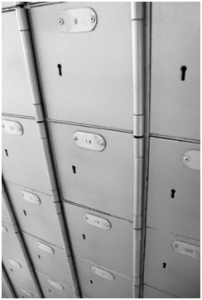 Email, text message, social media networks, online banking and electronic bill pay are ubiquitous these days. Their near-universality means Americans don't rely on the postal service the way they did not so long ago. As a result, the USPS is hemorrhaging money. To cut costs, the Postal Service now requires cluster mailboxes in all new housing developments and subdivisions. A bill being considered by Congress could phase out to-the-front-door mail delivery — a service still used by a mere 28 percent of Americans — altogether, saving the USPS precious billions in operating costs.
Mail Delivery Is the Biggest Drain on USPS Coffers
Daily delivery of mail to every address in the country is the USPS's biggest fixed cost. Americans currently live at a collective 152 addresses, and 37.8 million of those homes receive their mail delivered right to their front door. The rest receive mail delivery to curbside mailboxes — or the cluster mailboxes already mandatory in new developments and are becoming more popular in existing neighborhoods.
The Postal Service pays $40 billion a year to deliver mail to every home and business address in America. Mail volume has decreased dramatically over the past several years, from 213.1 billion pieces in 2006 to a smaller 160 billion pieces in 2013. Unfortunately for the Postal Service and for those who still rely on its daily deliveries, declining mail volume does not equal declining costs. The letter carrier follows the same route no matter how much mail he or she has to deliver. The costs of employing the letter carrier remain the same.
Front-Door Delivery to Be Phased Out Entirely
The USPS hasn't offered front-door delivery for new homes since the 1980s. In early 2013, they started requiring cluster boxes in new developments. A bill introduced to the Senate in August 2013, the Postal Reform Act of 2013, would phase out front-door postal delivery altogether. The 37.8 million addresses that currently receive front-door postal delivery would be required to switch to cluster mailboxes or, in some cases, curbside mailboxes. Front-door mail delivery would be gradually phased out over a 10-year period.
Cluster Mailboxes Could Save the USPS Billions
Increasing reliance on the Internet for communication and financial transactions has taken a heavy toll on the USPS. In 2013 alone, the U.S. Postal Service lost $16 billion. The USPS has maxed out the debt it's allowed to hold under federal law. It currently owes $15 billion to its creditors. Eliminating front-door delivery in favor of cluster mailboxes could ease the Postal Service's financial woes to the tune of $4 billion per year.
Delivering mail to customers' front doors costs more than delivering to cluster mailboxes; front-door delivery costs $353 per address each year in urban areas, compared to $224 for curbside mail box delivery and $161 for centralized cluster mailbox delivery. The savings for delivering to cluster mailboxes in rural areas are greater still.
Cluster mailboxes cut postal delivery costs because they make mail delivery more efficient. Instead of going to each house in a neighborhood, cluster mailboxes make it possible for letter carriers to deliver mail to several addresses in one stop, in a fraction of the time it would take to visit each individual front door. Most cluster mailbox units even have parcel lockers that allow letter carriers to leave packages for neighborhood residents and businesses using the cluster mailbox. Residents and business owners will have keys to their cluster mailboxes and mail will be kept safe and secure from tampering, the thieves and the elements until the recipients are able to pick it up.
Additional reforms proposed in the Postal Reform Act of 2013 include phasing out delivery of "mail-like bills and advertisements" on Saturday while retaining Saturday delivery of other correspondence and parcels, a move that could save the USPS $2 billion a year.
Cluster mailboxes could help save the struggling U.S. Postal Service, which continues to lose money as Americans rely ever more heavily on the Internet to pay bills and send correspondence. Cluster mailboxes allow letter carriers to deliver mail more efficiently by consolidating multiple addresses in one place. The switch could save the USPS $4 billion a year – money it sorely needs to continue fulfilling its obligations to deliver mail and fund employees' benefits.
About the Author: Contributing blogger Dave Vincent is CEO and owner of National Mailboxes, provider of safe, secure USPS-approved cluster mailboxes. You can find them online by visiting http://www.nationalmailboxes.com/commercial/.
Category: Business