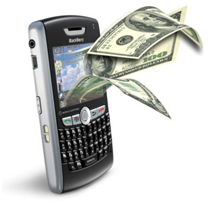 Although it may seem like the majority of business is now conducted online, it's still vital for a business of any size to have a cell phone as well. Whether you run a small e-commerce retail shop at home or freelance design services, you'll need to have a cell phone to communicate with clients and business contacts. Small things like dropped calls or missed messages can wreak havoc to your business. However, at the same time you want to choose a plan that won't break the bank. Many small businesses work on tight budgets, so it's important to find the plan that will best fit both your financial and practical needs.
Assess your Needs
It's difficult to choose a plan without a clear idea of what you will be using your cell phone for. Do you mainly need to access Smartphone services on the go? Or are you looking for a traditional handset and landline for a home office? If you run a retail operation, chances are that the majority of your business will be conducted online so you'll need a full media services package. Another factor to consider is how many of your calls will be international. If a significant percentage of your business is conducted internationally, you'll want to find a plan with cheap calls to Pakistan, Australia, wherever your business's top contacts reside. It's helpful to make a list outlining the features that are most important to you, whether it's low international rates, unlimited texting, or multiple phones.
Compare Providers and Packages
With your basic needs in mind, you can then start comparing carriers in your location. Look at factors like plans, coverage, range of services, and contracts. Security is often an important factor for businesses to consider. If you plan on using Smartphones when you're out and about, you'll want to be sure that your data is protected. Some providers allow you to wipe your information if the device is lost or stolen, for example. Look at both minutes and data, as chances are you will be using both in your business. It's difficult to find unlimited data packages, and data overages can be quite costly. Be sure that your package includes a reasonable amount of data for your communication needs.
Consider Going Contract-Free
For some businesses, it may make the most sense to go without a long-term phone contract. There are now multiple providers who offer pay-as-you-go options. This can be ideal if you have a start-up, and don't want to commit to a business phone line for two years. It's also better for businesses who conduct the majority of their business via email, or those making a high volume of international calls. For example, if you run an export business selling traditional Indian garments, it may be more cost-effective to place these cheap calls to India from Lebara mobile or other pay-as-you-go services rather than pay extra from your regular service provider.
There is no one-size-fits-all solution when it comes to business phone plans. It's worth taking the time to assess your needs properly to find a solution that will be the best fit for you, and save money in the process.
Category: Business