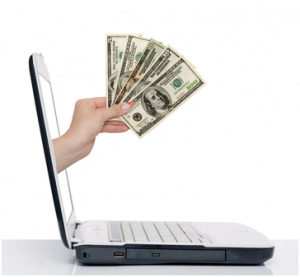 Online payday loans may seem like a great way to pay for financial emergencies, but how can consumers be sure that lenders are trustworthy? Understanding the payday loan process and learning more about how to research lenders can help consumers avoid scams when they are applying for a loan online.
How Do Payday Loans Work?
Payday loans are short-term loans that are meant to be used for emergency expenses. These loans are provided to borrowers based on income, and lenders expect to be repaid the full amount of the loan when the borrower receives a paycheck.
Online payday loans are available for the convenience of borrowers. The process of applying for a payday loan starts with providing basic personal information including age, address and workplace. Proof of income is necessary, and borrowers need a bank account for the transfer of money to take place.  Check out Northcash.com for more information about online payday loans.
The quick approval process and the use of income as collateral on the loan makes payday loans ideal for people who need money within a day or two. Up to $1,000 can be deposited into a bank account within about 24 hours. The exact amount that a person can borrow is based on their income.
Payday loans are generally available to people who have had credit problems in the past. This is because income is used as collateral when a loan application is approved.
Are There Fees Associated With Payday Loans?
It is important for consumers to understand that all payday loans come with fees. However, these fees are not the same as interest that is applied to a traditional loan. The short-term nature of a payday loan means that a one-time fee with be applied to the beginning balance of the loan. Some lenders choose to deduct this fee from the amount that borrowers receive. For example, a person who is borrowing $1,000 may only receive $950. The $50 is deducted from the loan amount, but the borrower is obligated to pay back the full $1,000.
There are also penalties associated with payday loans. It is understood that the borrower will be paying back the loan within a very short period of time. This time is usually as long as a pay period. Late fees are applied to the balance of the loan, and some lenders apply late fees on a daily basis. It is important for consumers to be sure that they will have the funds to pay back a payday loan on time to avoid these hefty fees.
How To Identify Trustworthy Payday Loans
One method of identifying trustworthy payday loans is by searching for reviews on certain companies. Reviews that come up with the results will let borrowers know whether there are hidden fees or unsavory business practices associated with the lender. Organizations that regulate businesses in the United States also provide valuable insight into the trustworthiness of these lenders.
Another way that people can use to identify whether an offer for online payday loans is trustworthy is by asking friends and family members about their experiences. Posting on a personal social media profile allows individuals to gather recommendations from trusted loved ones who have used payday loans in the past.
It is important for consumers to be proactive about ensuring that lenders are reliable. No one should provide financial information online without first verifying the identity of the lender and the security of the website.
James is a finance expert writer who has a particular interest in covering topics on loans. He's a regular contributor on PaydayLoansGuide.org.
Category: Loans