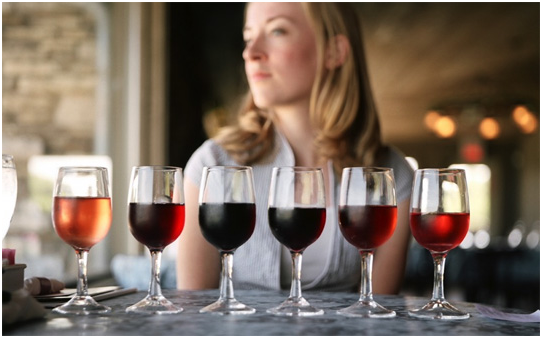 Wine lovers know that wine shops can bring both joy and heartaches. If you aren't experienced enough, the wine shop experience can be very exciting, but also very scary. This can apply also to more experienced customers, who may sometimes find it difficult to choose among so many impressive wine varieties. Customers sometimes go home and notice that instead of buying a high-quality wine, they ended up being ripped off. How can you establish whether that Burgundy wine is made by a serious producer and that it had a good year? Or how can you tell that the wine you've decided to buy is worth its price?
The truth is that the process of buying wine can be rather overwhelming. Even experienced collectors doubt themselves whenever they have to choose among some wines that they've never heard of. If you've been in this situation, you are definitely aware of the importance of having some good guidelines to follow. The next tips will definitely come in handy as they guarantee that you will no longer face difficulties when purchasing wine.
Know your store
Wine shops are very different, as they feature different prices, different selections, and a different focus. As a result, you should opt for what suits you best. In case you are a novice, you should definitely avoid buying from shops in which every bottle costs over $50. Instead, you should look for wine shops that organize wine tastings or that allow you to taste every wine type. Only when you taste something you can decide whether it's worth buying it.
Have a plan
Try to establish what type of wine you are willing to buy, as well as its region. You may be looking for something simple that can be served with dinner or at a birthday party. Establishing what you need will definitely help you make an inspired choice that suits your requirements.
Don't avoid bringing resources
People have to choose among countless sources of information related to wine, and brining one of them with you will guarantee that your decision will be the best. Brochures, magazines, books, and even websites can contain useful information about vintages and producers. For example, what really makes a difference is the vintage. Is the vintage is good, the wine will definitely taste wonderful. You can find plenty of useful information on websites such as The Wine Advocate or The Wine Spectator, and no one can prevent you from consulting them while you are in the wine store. However, bear in mind that if a wine is rated with a mediocre score it doesn't mean that you won't like it. Everybody has their own tastes and opinions that shouldn't be taken for granted. You may like what others don't, so nothing should stop you from choosing what you like.
Inspect the land
Don't remain stuck in one area of the store because the best choice for you might be positioned where you least expect. Not all the stores are well-organized, so you should definitely take a tour and inspect all the products before making your choice.
Try to build a relationship with the salesperson/owner
You are advised to ask for a recommendation whenever you are experiencing difficulties in making a choice. Even though the salesperson may seem a bit grumpy, you should know that he/she is probably as interested in wine as you are. Besides, salespeople/owners know their products as the back of their hands, and they will definitely tell you what wine suits your requirements.
Price is not always a guarantee for quality
An exorbitant price used to be a guarantee that the wine is exquisite and tasteful, but the situation has changed within the last period. Wines are no longer priced according to their age, but to the start-up costs implied or to the investment level provided by outside sources. However, a bottle of wine that comes from a popular wine growing region is entitled to cost more than one that comes from a less famous area. The more expensive a wine is, the greater attention you should pay when making your choice.
Experiment as much as you can
You cannot learn more things about wines without experimenting new types every once in a while. Ask the owner for new recommendations or make your choice based on the cards pinned next to wine bottles. Who knows, maybe your final choice will be the best you have ever made!
Author Bio: Jason Phillips is prominent writer who has written many high quality articles for leading sites. He is also a co editor at the site wineinvestment.com which is one of the UK's top most fine wine investment companies.
Category: Budget, Family Finances, Saving Money