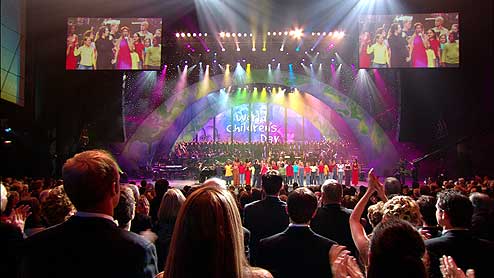 Corporate entertainment is a great way to impress and thank your loyal clients and make an impression on prospective ones too. We take a look at some of the more unusual and creative ideas available in the world of high-end corporate events and entertainment.
Casino Royale
A glamorous casino evening will transport your guests to the millionaire lifestyle of Monte Carlo as they try their hand at roulette, blackjack or baccarat. Invite them to dress like James Bond or his glamorous team of agents whilst they sip martinis (shaken, not stirred) and mingle under a balmy Mediterranean sky. Of course, this can all be achieved in a stylish venue in the UK and will have a long-lasting impact, especially if Lady Luck is feeling generous.
Murder Mystery Evenings
Your guests gather at an atmospheric venue, perhaps a castle or a large country house and are greeted by the house 'staff' (in reality a troupe of actors who host the evening). During dinner a murder is perpetrated and the guests have to try to solve the mystery through their own detective work. Fancy dress or era themes add to a thoroughly entertaining evening. Think Cleudo, with real people, a superb dinner and a chance to play detective and it all adds up to a mysteriously marvellous evening of outstanding corporate entertainment ideas.
Up, Up And Away
It involves a pre-dawn start, but your guests will thank you for their early rise, as they soar, silently over the beauty of the British countryside with the sun rising and creating the most amazing memories. Ballooning is a unique experience and offers your guests a chance to reflect on the majesty of nature whilst sipping champagne at a kilometre high. Think about having the balloon branded with your company's logo to make it a completely personal experience.
Last Tango In Paris
If you have ever watched Strictly Come Dancing and envied the dancers the opportunity to jive, waltz or samba, imagine how thrilled your guests will be to have the opportunity to learn to dance like a professional. Dance lessons are a great way to bond a team and get endorphins flowing for an unforgettable feel-good factor evening. Your guests receive a dance lesson from a professional dancer with the opportunity to show off their new skills to their colleagues either before or after dinner.
Life In The Fast Lane
Britain is having a renaissance in the world of motor sport at the moment, with the recent success of Lewis Hamilton and Jenson Button. A motor sport day, at one of the UK's premier racing circuits, gives your guests the chance to emulate these racing heroes and put their own driving skills to the challenge. From specially-designed single seater race vehicles to high-performance road cars your guests will experience the thrill of driving some of the world's fastest cars, in an environment they will never have encountered before. Forget speed limits and prepare for the drive of their lives.
Exclusive corporate entertainment will always be received well by the guests you have invited. It is a measure of your respect for them, whether they be established, new or potential clients, that you have organised something just that little bit different, that raises the function above the usual run-of-the-mill event.
AUTHOR BIO
Gabrielle Stock writes regularly on exclusive corporate entertainment ideas for a range of business websites and blogs. She is particularly interested in the psychological benefits that bonding exercises can bring to an organisation and the positive productivity they create.
Category: Business