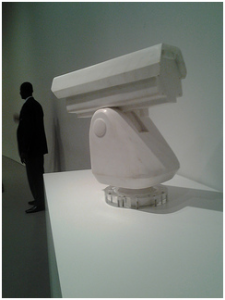 Running a business can be a daunting task, but it can also be one of the most rewarding experiences a person ever has. Unfortunately, maintaining the company's finances can be one of the most difficult parts of the job. Even those who don't have financial issues while running their company, though, often overlook a serious detriment to their bottom line: theft. Literally trillions of dollars are lost to theft every single year, so it's folly to believe that one's company won't be affected by it. There are a few methods, though, that can help reduce these losses.
1. Install Surveillance System
This is maybe one of the best methods of preventing all types of theft in a company. The presence of security cameras is an excellent deterrent to those who may have sticky fingers while walking through a retail shop or other business. These systems are an amazing investment, but even business owners who don't have the funding to install one can benefit from them. There are actually "dummy" cameras on the market that look exactly like real security cameras, but they don't have a camera inside. Even this can deter would-be thieves.
2. Better Pre-employment Screening
Sadly, numerous reports are now showing that employee theft is on the rise. In fact, it's reported that companies will lose five percent of their revenue to employee theft and fraud. Having better employment screening practices in place, though, can go a long way in preventing this. If an employee is caught stealing, there is the chance that a good criminal defense attorney can help them beat the charges. After all, many types of employee theft are hard to prove. Even with this being the case, however, at least the manager will know to terminate the worker.
3. Magnetic Tags
Businesses from the smallest mom-and-pop shops to multimillion dollar corporations use magnetic tags to prevent theft in their stores. These tags can come in many different styles, from small barcode tags to plastic clips, but they all set off a store's alarm if not deactivated before someone walks through the theft detectors at the business's doors. A person would have to physically remove these tags themselves to steal something, and this makes it much more likely that they'll get noticed.
4. Display Cases
Many businesses also utilize display cases for their most expensive merchandise. Expensive items can be placed and locked in these cases, and this makes it nearly impossible for theft to occur involving these pieces of merchandise.
5. Security Gates
Metal or garage door security gates can also go a long way in preventing theft after a business has closed down for the night. While smash-and-grab thefts aren't the driving factor behind merchandise loss, a single incident can still cost a company thousands of dollars. These security systems are especially important for businesses that aren't located in the best neighborhoods.
Theft will always have a direct effect on businesses, but this effect doesn't have to be overly damaging. By following the aforementioned guidelines, a business owner can reduce their chances of becoming victims of theft. After implementing only a few of these steps, an individual will likely be surprised at the amount of money they shave off of their overhead.
Lisa Coleman shares some tips on how a business owner can protect their company from theft and burglary. She recently read at http://www.devorelawoffice.com/ the serious legal repercussions a person charged with such crimes can face and the difference a Minnesota defense attorney can make.
Photo Credit: http://www.flickr.com/photos/ken_mayer/8505529344/
Category: Business