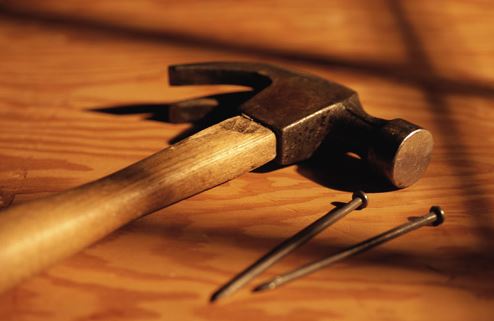 Giving your home a fresh new look needn't bust your bank account, not when there are so many Do It Yourself projects that can be done a budget right at home! To get the most bang out of your decorating buck, focus on projects that ensure your home makes a great impression when family and friends visit but most importantly ones that you will enjoy doing. These four affordable can-do projects are sure to attract attention and are easy to accomplish.
1. Install a New Porch Light
Nothing attracts the eye like light, and few DIY projects enhance your home's curb appeal more than stylish outdoor lighting in Houston. For optimal style, choose a porch light design that accents your home's architectural style. Make sure that the lamp is large enough to create a strong visual impact. A good rule of thumb is to select a porch light that's around one third the height of your front door. As a safety precaution, turn the electricity off at your fuse box or circuit breaker before installing your new lamp.
2. Accentuate Your Entry Way
As the first area that guests view when they enter your home, an entry way sets the tone for your home's style. Without going into the "energy" of your home too much, the entry way can make or break your guests experience right away if it isn't welcoming and often times calming. Because it's a relatively small space, sprucing up the space won't cost a bundle. Give the wall facing your front door a bold treatment, such as textured wallpaper, a coat of paint or wainscoting. Add an eye-catching piece like a console, mirror or painting that reflects your personal taste as well as the decorative style of the rest of your home.
3. Create a Distinctive Focal Point in Your Living Room
The last thing that you want when guests enter your living room is for the space to feel cluttered and chaotic. A focal point arrests the eye and adds a feeling of confidence and cohesion to the room's design. Because architectural features like fireplaces, built-ins and windows naturally attract the eye, they're perfect for creating an eye-arresting centerpiece. Use an easy chair and side table to form a charming vignette near a window. Stage favorite photos or artwork on your fireplace mantelpiece.
4. Makeover the Guest Bathroom
The less cluttered that your guest bathroom appears, the more comfortable your guests will feel using it. Store toiletries and towels elsewhere and leave the space looking elegantly spare and clean. A generously proportioned mirror over the sink is a thoughtful and stylish addition. A powder room should be designed with guests in mind, equipped with single-use items like guest towels and soaps.
You don't need to spend a lot of money to make your home look welcoming to family and friends. By focusing your DIY efforts on the areas of your home that guests notice the most, you'll ensure that their first impression of your home is favorable.
Category: Home Renovation