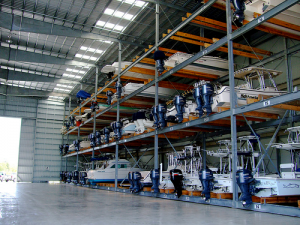 Boats left out in a yard or driveway are exposed to the elements, meaning rust can accumulate and your boat can be damaged even when it's not in use. If you don't have the dock space to rent or the water freezes over in the winter where you live, you need a place to store your boat. Letting the boat sit all season in your yard or driveway is a bad idea; if the boat doesn't get damaged, at the least it'll damage your grass or be in your way in the driveway. If you don't have the room in your garage, get creative about storing your boat.
Make a Portable Garage
If you don't have space in your garage for your boat, then make a portable garage with a steel hut. You can try to put one together yourself with a welder and sheet metal, but there are collapsible steel huts specifically designed for boat storage that come with instructions for building. Some companies allow you to rent the portage garage, and may even set it up and take it down for you for an additional fee.
All State recommends boat owners shrink wrap their boats if they're going to be storing them for long periods — even if you're using a portable garage. Yes, shrink wrap. It's tighter than a tarp and more likely to protect your boat. How do you pull that off? It's simple.
Tape over the fuel vents and wrap foam padding around any sharp corners
Buy industrial-sized shrink wrap. You can find some specifically for boats (using the kind you use in kitchens will be impossible).
Cover the entire boat or part of the boat in sections and follow the instructions that come along with the shrink wrap. Use a heat gun to get the film to cling to the surface and start from the bottom up
Step back, inspect for air bubbles or tears — and you're done!
If any moisture leaks in through your portable garage, the shrink wrap will offer a second layer of protection. When it's time to use the boat again, simply rip it off.
Rent a Storage Unit
If you don't have the room on your property, rent space elsewhere. Inquire about storage units with adequate space for boats; these units are more likely to be weatherproof than anything you have on your property. The people who maintain the storage facility will keep the unit free of bugs and other vermin as well.
You can also consider a boat-rack storage facility. More affordable than renting an entire unit for yourself, storing your boat with dozens of others will make your boat look like something on a store shelf — a shelf filled with giant boats, that is. If you're not going to use the boat for months at a time, you can rely on the storage operator to maintain and care for your boat during those off-months.
Donate It
It's not really storing a boat to get rid of it, but it may actually be the most sensible way of getting the boat off of your property when it's not in use. Donate the boat to a charity and you're not only supporting a worthy cause, you're leaving all of the stress about maintaining that boat in the off-season behind. You don't have to pay to donate, so it's the affordable option for those who think storage costs and buying a steel hut are too much. Plus, you'll qualify for a tax deduction that you can use to buy or rent a new boat.
Part of responsible boat ownership is taking care of your boat, even during those months when it's the last thing on your mind. If you fail to take care of it when it's not in use, you may as well get rid of it. Boats take up a lot of space on your property and could prove expensive to store when not in use. Make sure you're passionate about boating before you commit to keeping your boat over the winter.
Image by Spencer Hooks From Flickr's Creative Commons
About the Author: Brad Orosco is a professional organizer who runs a blog on organizing tips for everything from the clutter in your closet to the stuff taking up space in your yard. He's a proponent of boatangel.org and asks his clients to donate old boats they no longer use. 
Category: Family Finances