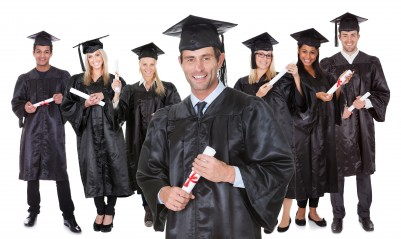 There are several military programs that make it possible for eligible spouses and dependent to go to college. Whether you want to attend a local college, or you and your spouse or parent are stationed away from home and you aspire to attend college through an online program, one or more military-sponsored education programs may meet your needs. Use this helpful guide to learn more about three of the best-known military-sponsored spouse and dependent programs.
The Post-9/11 G.I. Bill
This bill was signed into law in 2008. It provides powerful education benefits to eligible service persons, their spouses and dependents. Under a "Transfer of Benefits" provision, the eligible service person can transfer their Post-9/11 G.I. Bill benefits to a spouse or dependent. There are certain criteria that must be met before the VA will approve a transfer of benefits including opportunities to qualify for military dependent scholarships.
The eligible service person must have served six years (beginning after August 1, 2009) and sign up to serve an additional four years. This is for a transfer of benefits to a spouse only.
To transfer benefits to a dependent other than a spouse, the eligible military person must have served for 10 years.
Transferable benefits may include payment for tuition and fees, books and a monthly expenses stipend. Eligible service persons may transfer only unused benefits to a spouse or dependent.
The MyCAA Military Spouse Career Advancement Account
This popular program is more commonly known as the "Spouse Tuition Assistance Program." The program was rejuvenated and re-launched in October 2010. New changes offer additional benefits to spouses of eligible service persons. The maximum amount of financial assistance provided under the MyCAA program is $4,000 payable over two years' time. Eligibility is limited to spouses pursuing associate degrees, licensures and/or certifications that can be completed over three years or less. All reimbursements are paid directly to the participating school or program. Only spouses who meet these criteria are eligible.
The active duty military must be in pay grades E1-5, W1-2 or O1-2.
Activated Guard and Reserve personnel spouses in those pay grades are also eligible.
Coast Guard spouses are not currently eligible for the program.
Certain expenses and fees are not reimbursable, including expenses related to purchasing computers, child care, transportation, medical services, student activities fees or memberships. Eligible spouses who wish to apply can create a MyCAA account on the MyCAA website and follow the application procedure.
The Survivors & Dependents Educational Assistance Program
This unique program, often simply called DEA, offers up to 45 months of education benefits to eligible dependents, including spouses and children. Eligibility is specific to the following criteria.
You are a dependent (spouse or child) of a veteran who is permanently disabled or deceased due to specific active duty service-related injuries.
You are a dependent of a veteran who passed (for any reason) while the active duty service-related injury was present.
You are a dependent of an active duty service person who has been reported missing in action (MIA) or captured in the line of duty by a force deemed "hostile."
You are a dependent of an active duty service person who has been detained or interned forcibly by a foreign entity.
You are a dependent of an active duty service person who is receiving hospital or outpatient care.
You are a dependent of an active duty service person who has been permanently discharged or is deemed likely to be permanently discharged from service due to a service-related disability.
Once you meet the eligibility criteria, you may use your benefits towards certificates, degree programs, on-the-job training, apprenticeships and (for spouses only) correspondence courses. Dependents may only use benefits when they are age 18 to 26. Spousal benefits expire 10 years from the first date of eligibility or from the date of the eligible service person's passing. Prior to enrollment in the program of your choice, it is also important to determine that the program itself is eligible under VA guidelines.
With these three programs, spouses and dependents can find scholarships and financial assistance to receive additional education and training and advance in their careers.
About the Author: Harry Thurman sent his spouse to college using 9/11 G.I. Bill benefits. Today, he and his spouse have great jobs thanks to his veterans' benefits for college education.
Category: Education, Financial Planning